As I've mentioned in a previous post, Chechnya has been kidnapping gay and bisexual men and detaining them in concentration camps. Approximately 100 men have been detained, and an estimated 3 have been murdered.
When discussing this, several news sites (the Guardian, Daily Mail, Times, and yes, Breitbart) as well as people mention that it is a predominantly Muslim country.
However, several people have been using this fact as a way to criticise Islam – a lazy way of getting a couple Islamophobic digs in while also caping as a supporter of the LGBT+ community.
Such articles subtly conflate Islam with homophobia, a shallow analysis that harms the Muslim LGBT+ community.
Religious texts are above all else interpretive – even scholars using a similar method, such as Biblical literalism, can end up with a broad span of answers depending upon what they focus upon.
Faith doesn't need to exist in opposition to the LGBT+ community – just as organized religion can be a tool to oppress, it can also be a tool to uplift and empower. Religion is, above all else, run by the powerful who impress their views upon the greater community, whether these are of tolerance, or of homophobia and sexism.
Blaming Islam for the violent homophobia orchestrated in its name does the LGBT+ community a disservice, just as with blaming any kind of religion.
Understandably, many  of us LGBT+ folks are wary of religions, due to the overwhelming prevalence of homophobia disguised as gospel that threatens our lives. We certainly can be critical, and feel hatred towards people that use religion as a weapon against us, but religion can be reinterpreted in far more tolerant, and accepting ways.
A further issue with linking homophobia with Islam is in the ways it allows (mostly white) people to distance themselves from their own homophobia. It's far easier to feed into the image of the racialised, dark-skinned Muslim that is ignorant, violent, and backwards, than to look at yourself and how your own communities perpetuate homophobia. Perpetuating this view of Islam justifies the violence against Muslims, particularly Muslim women, that continues to this day.
***
If you still have trouble squaring Islam with the existence of LGBT+ Muslims, you can take a look at the work of these people and get some insight into their experiences with religion.
Here, LGBT+ Muslims, Christians and Jews describe their relationship between their sexuality and faith.
Dr. Scott Siraj al-Haqq Kugle's demonstrates that homophobia has little basis in the Quran.
Imam Daayiee Abdullah has created a lecture series on the LGBT+ community and Islam.
The Advocate showcases over 20 LGBT+ Muslim activists.
Imaam is a UK-based advocacy group for LGBT+ Muslims.
LGBT Muslims "discusses the issues surrounding Islam and sexual, as well as gender, diversity. We are offering diverse and positive perspectives from varies individuals, organizations, and will do our best to give historical background to these modern issues."
If you want to make a concrete impact upon the lives of the gay Chechen men that have been targeted by these homophobic crimes, or receive current information about this crisis, you can donate to and visit the Russian LGBT+ Network.
Illustrator and filmmaker Maeril created a webcomic that explains how bystanders can respond to Islamophobic acts.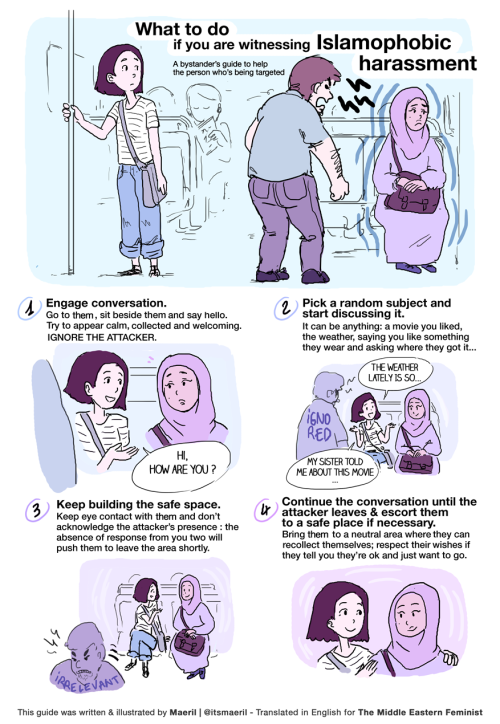 Additionally, you can contact your political representatives and demand that they push for these gay and bisexual men seeking refuge to be given visas.
Cover image from Imaamlondon.wordpress.com